Kinnick High School Photos
New Time Posted!
Kinnick High School Photos from Fall 2017 are now processing…
Photo Codes will be sent via email and Home Note Flyer once all photos have loaded to our system. 
Please refrain from emailing our Team to ask when photos will be ready as this slows down our production time. 
We expect photos to be online by:  Fri Oct 27.
Delays have occurred due to some events & schools being rescheduled due to the TYPHOON which has
affected our turnaround times for processing.  

————————————————
Dates are now set for Kinnick High School
 SY17-18 Fall Portraits!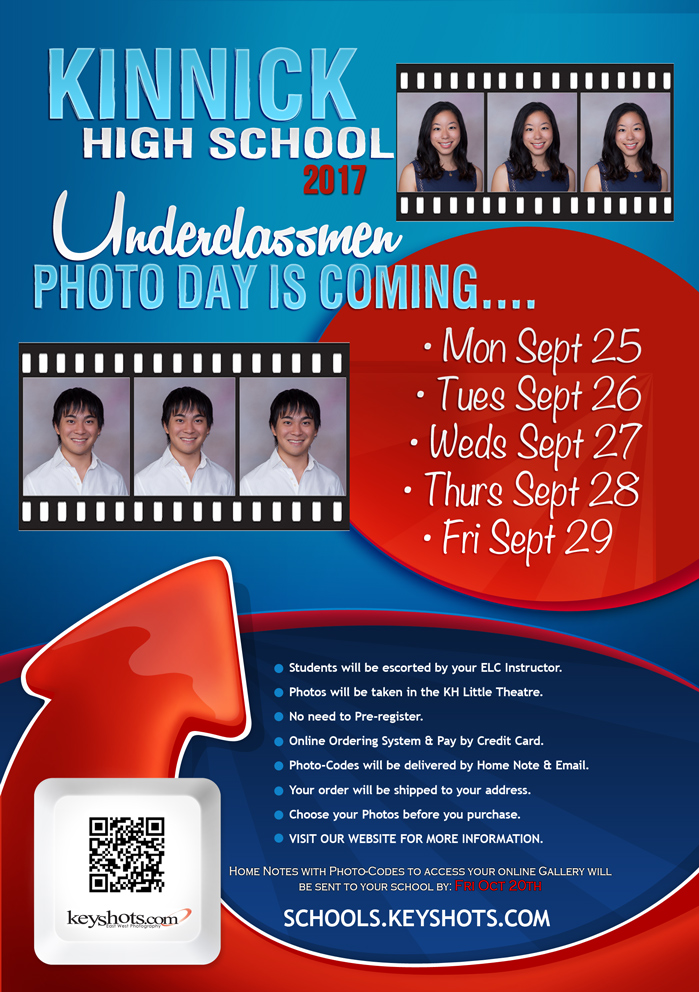 ——————————————————————–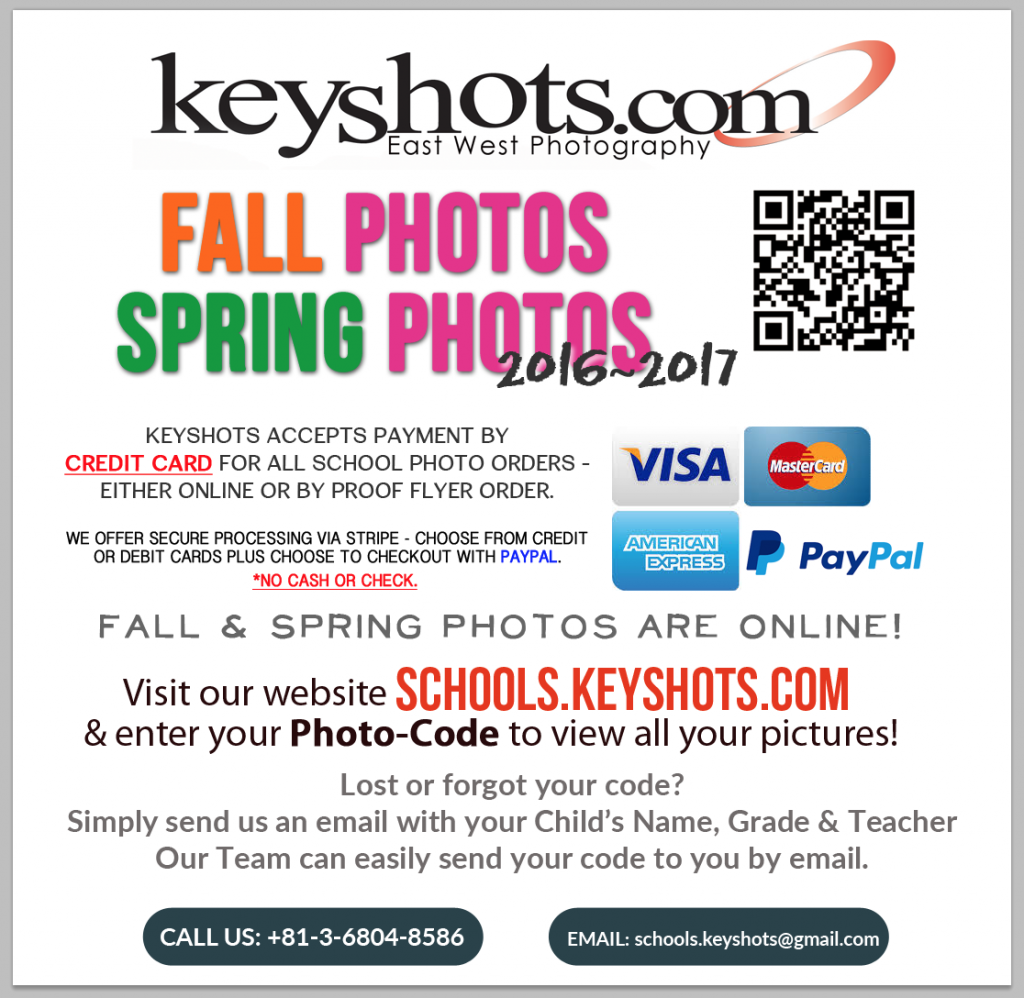 —————————————————————————————–
Photos for Kinnick High School 
FALL & SPRING SY16-17
are now online!
Flyers have been delivered to your School – please check with your  Math Teacher or Head Office if you have not received your Photo-Code Flyer. 
If you already have an account with Keyshots.com you can easily sign in with your email address & enter your password. 
Click here to sign in or to register your account:
Please register for your account at schools.keyshots.com by using the Photo-Code that was distributed by Home Note Flyer to your School after Photo Week. 
If you did not receive a Home Note Flyer and do not have a Photo-Code or have misplaced your 
Photo-Code please contact our office by email at: keyshots.schools(at)gmail.com
You must provide us with the following information:
Your Name:

Student Name:

Grade:

Teacher Name:
Questions?
Please feel free to contact us during business hours – our bi-lingual team are happy to assist with any enquiries.
We are open Tues to Fri 10am to 5pm
———————————————————————————–
Kinnick High School Underclass Portraits – Update
2 Nov 2016
Notice of Delay – Kinnick High School Portrait flyers are scheduled to be delivered to your School by Friday Nov 4th. 
Processing delays have occurred due the School Schedule & system change that was needed during Photo-Week. 
Flyers will be distributed by your School once they are delivered. 
Students are advised to check in with their Math Teacher to collect their Photo-Code Flyer once ready for delivery.
Thank you very much for your patience. 
————————–
Seniors Flyers have been delivered and are being distributed by your School 
—————————————————————————————————————————-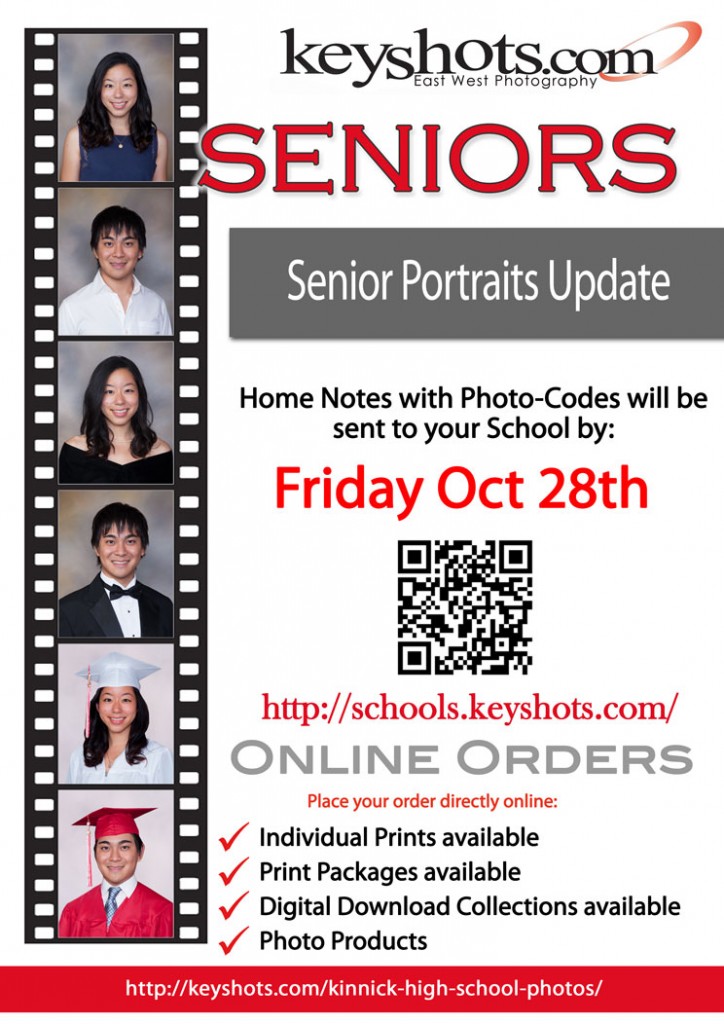 ———————————————————————————————————————————-
Notice of System Update
Keyshots.com launched our Military School Photography Service in September 2015 – initially we outsourced all Ordering & Printing Services to our US based Lab. All Production and Shipping was handled in the US and sent directly to our Military Customers using USPS. 
After the roll-out of our brand new system in Oct – we discovered a communication glitch in our main frame which has caused some delays with orders being shipped in a timely manner. We have also not been satisfied with the quality of the printing being produced with our US Lab. 
As a result we have moved all production to our Tokyo Lab and will be shipping all future orders using Japan Post.
The care and quality that goes into the service produced in Japan is far superior however it is also more expensive as a result. 
By switching to our Local Lab we will now be able to offer the following improvements:
• Faster Turnaround on Production – by using our Local Lab – we hope to turnaround orders within a 2-week time-frame. 
• Superior Quality Printing – we have upgraded the quality of the Paper all Packages will be printed on. 
• Faster Shipping – by using Japan Post we can reduce the time it takes to ship your packages from 9 days down to 2 days. 
Missing or Late Orders Procedure 
Our Company Policy is to replace any Missing Orders or Orders that require reprinting due to quality issues.
If you have not received your order within 28 days please email our office with the following information:
Your Order Number: 
Your Full Name:
Your Address: 
Email: info(at)keyshots.com 
Our Orders Team will be happy to assist you with getting your replacement order out to you as soon as possible. 
Thank you from the Keyshots Photography Team. 
—————————————————————————————————————————————————————————–
Keyshots.com is happy to announce that all Kinnick High School Photos taken in Sept are now online and ready for viewing.
Please visit schools.keyshots.com and register your account with your Login Code.
Login Codes were distributed to your School before Photo Week – if you have lost, misplaced or didn't receive a login code please contact our office by email at: info(at)keyshots.com
You must provide us with the following information:
Parent Name:

Student Name:

Grade:

Teacher Name:
Our Schedule is currently fully booked – Our Staff will endeavor to answer your emails as soon as possible – we appreciate your patience. 
—————————- UPDATE ————————-
Photos from RETAKE DAY  held on Tues Nov 17th will be ready for viewing on:
Fri Dec 4th
You will receive an email with your new Login Code to view photos. 
HINT: Please see the help guides posted below on how to add multiple collections to a single account. 
Custom Photoshop Editing is available as an Add-on Service – please contact our office by email for fees & service information. 
——————————————————————————————————————————————-
Please also take a moment to read through some of our Help Guides below to assist you with navigating our new Schools System.